MY POETRY

I have been writing poems for many years ever since my interest was kindled in English Literature at school and by the love of poetry that my father, Arnold Alcock shared.
Shakespeare, Chaucer, Tennyson and Wordsworth were especially inspiring.
The process of creative writing is cathartic and seems to come from a place that is not controlled by the logical left brain but grows out of the subconscious, intuitive and free to roam.
Many times at points of turmoil in my life, poetry has been a way of expressing things that I did not know I knew until that moment.
Often I rely on structure and rhyme to build my poems, some of which lend themselves to song; such as "To be a King" which has been set to music by Mark Goodchild.
One of the poems closest to my heart is "To Dad" , written a few months before his untimely death from Idiopathic pulmonary fibrosis.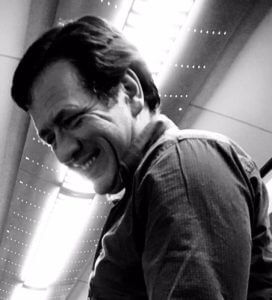 TO DAD
And so, my dear old Father,
At the ending of the Year;
I thought I'd put my thoughts in rhyme
To wish you Christmas cheer
A time at which we all take stock;
To look back on the past
And memories with some wine unlock
As years, they unwind fast.
When I was young, You were my rock,
My wheels, my bread on tongue
And so began a journey long
To listen to my song.
You taught me Kipling's 'If'
Of men who conquer peaks
And troughs, the upper lip to uphold stiff
And 'Punarama', Play on words
To capture all our laughs.
And Dad, you introduced me
To the canine hound of Black,
I know now what you carried then;
The world's weight in that sack.
To carry your ambition
To keep the flame alight,
The burning passion politics
Now embers just in sight.
The energy, the dynamo
The urge to carry on,
The flavours of so many pies
Not savoured for too long.
There was no time for busy Dad
The candle at both ends
To burn, it drives us close to mad
The frame of us it bends.
But I remember Dear Old Father
Though the words are never said
How safe and warm and loved I felt
When 'packed off' up to bed.
So with our 'Autumn', 'Falling leaves;
How long will be the season?
Man counts up all that he achieves
The heavy cost of reason.
Though 'being' IS victorious,
Our sonnets need more breath,
Each moment, it seems glorious,
Man's battles won o'er death.
Take the time, each moment gold
Of medals we never saw
Memories, love, the power of 'hold-
Me', last for evermore.
Our family born to struggle
No reason for to tell,
It seems no-thing but trouble
Though ALL, it turns out well.
And so to end, as all things must,
Many gifts have not been said,
Dear Father, Now I beg you trust
Your finest hours are still ahead.
Ant (Christmas 2014)
HERE AND NOW

He sat upon the bench of life
Reflecting on his pain and strife
Which now seemed to have gone away
Another man, a far off day.
His heart had rallied to the call
From spirits past"oh please don't fall"
Into the abyss of self and hate
Before you come to heaven's gate
There is only one place to be
Behind dark clouds so hard to see
The here and now, the moment feel
All existence can reveal.
SAVE THE WORLD

This is our chance to save the world.
A better place for every boy and girl.
Peace , love n hope for a safe today
Living ,embracing a kinder way.
What can you promise to give mankind?
You have a gift that you have to find.
Search for your essence of who you are.
Reach for the moon and you ll be a star.
A guiding light for all to see.
Shining bright you will ever be.
Disciples of love, the family tree.
Cast off our chains and set us free.
We have the power to change the world
Food, home and love for each boy and girl.
A peaceful earth for all to play.
Do all you can for this dream, today.
DISCOVERY

Discovering me
I have the worst view
Of what I can see
How can I tell what's true?
Sharp arrows have fallen
Embedded lead tips
Laced with their poison
Tainted my lips
I can be funny
Also quite tame
No good with money
No runner with fame
But I sense in my soul
The potential to give
So now is my goal
To Restart to live
So make peace with Autumn
Rest, lest you fall!
Wait til your heart's drum
And sweet flutes recall.
RESCUE

To see the stars with eyes anew
And brought back from the brink
From darkness to renew.
My friends, I thank you from my heart.
You did not let me sink.
KISS

Step up to the Abyss
And spend a while upon the crest
For there you feel the very kiss
Of life worth living at your best
CHANGE

And so my summer's over now
The leaves will come to Fall
Branches burdened heavy, show
New buds are at a stall.
I tended to the little trees
Spoke lovingly and fed
God pray they are free of this dis-ease
Fear, anguish pain and dread.
So roots exposed and shaking
Trunk denuded bark
The animal is quaking
Without solace and so dark
But Winter is a time so rare
And raw, but seeds are there
With food and love and kindness
They will grow again loves care.
SHADOW

They lived within her shadow
He could not bring the light
Her eyes so vacant narrow
Scorned bitter invoked fright
The more he rode the wave
To steer the raft to calm
She cast him loose without a save
To perish drown and harm
So swam against a tide did he
Pursuing noble goal
Was folly to expect that she
Could ever make him whole
The plinth on which crowned
Female, held so high
Blind, so sick he almost drowned
Speeding lifetime, could not fly.
He pulled each splinter from his heart
Tended bruises to his soul
Began repair and made a start
Live simple open, plug up the hole.
The victim now, he was no more
Set free upon the waves
Of life, to write symphonic score
To sing his soul it saves
So meet the pain
Embrace the shock
You only gain
Your heart unlock
Bitter no more, it eats away
YOU only taste it in the end
And sweet now honey any day
Will nourish, restore, nurture, mend.
SAFE

I tried so hard in everything
To be a grown up man
And now my heart so hard to sing
The pained response it barely can
The reason for my child's sad chant
So deep, so raw, so clear
Has never been revealed to me
Grown louder with each passing year
Just now he stands here screaming
He s terrified and shy
On my shoulders squeezing
Soul searching question "why?"
"It's because you matter son;
There's a purpose to your life;
You let me know when journey's done
'Twas meaning to the strife"
So sit and wait with calmness
Together holding hands
Each moment blessed and harmless
Bound strong embraced eternal bands
REFLECTION

How many times I took the wrong road
And many led t' same town
But this year's street was furrowed
With pot holes all self sown
Standing back in New Light
You see, it's crystal clear
Jump back in with fresh fight
The only hope this year
My travels, nearing Worlds end
May entertain and play
To reconcile my life s friend
Seems but a distant day.
So sage, it tells us "be kind!"
To those you yet don't know
Can be all to you, friend find
Enjoy, afore ye go.
LONGING

I hear it as she whispers
So clear above the waves
Beauty voice that is hers
Utters, me she saves.
Strength she gave it to me
Covers up my pain
Listens all I can be
Blessed that we all gain
And how did I repay her?
With ego in command
Did not show the man for
When longing she my hand
What price we pay by missing
Apart in black, hot rain
Ripped apart confusing
Blindness caustic pain
"Sorry" is empty charm
Because strong it pulls away
Regret is no passing harm
The heavy price to pay
My only word is gratitude
For opening the door
Of spirit, warmth and mind, so shrewd
Wish had nurtured more
So thank you for your being
Gifting life and love
Hurt me not for seeing
The prize of life above
I sense in rain of torment
You standing by my side
How wish that I for torrent
Stop flow and now subside
If words would come to show you
How deep my love has grown
There would no be chasm too
Selfishness I've shown
If there's branch I'd hold it
So gently in my hand
Til tall strong & storm fit
Seek peace understand
Your gift it carries on now
Your love it never stops
To feed, encourage fear bow
Your strength out of the box
So think of me, if you do
In future do not hate
Remember that I love you
My life's love, soul, sole, whole mate.
FLOOD

The water came seeping slowly
Invading by stealth
Destroying the mortar
Brick by brick
And what remained was the ghost like
Shaking structure
The mirror still laughed and distorted
Hoping to reveal the shadow
Scalpel the mind to expose
The Truth
Image seen before
Now nowhere to hide
Dying dream?
Or was the real
Just the myth
His lies, his truth
His final cadence.
LULLABY

Lullaby, lullaby
Rock me to sleep
Soft breathe & close eyes
Safe journey to keep.
Half-awake, slumber make
Dark thoughts disappear
Breaking beat, hearts intake
Rest now for fear.
Lullaby, peace gone by
Shattered glass heat
Smouldering, shouldering
Embers defeat
Tingaling, tingaling
Absent the tone
Jingaling, jangling
Sinews of home
Hush a by,thought go by
Breathe by yourself
Slowing down, soon to stop
Calm on life's shelf.
LISTENING

Listening and looking
Waves upon the shore.
Knowing and praying,
Wish I'd heard you more.
With every wave upon the beach
It brings its tears and pain
For one who now is out of reach,
Lost heart, no hope regain
The Angry swirl, it crashes
Upon the sorry rock.
The tree upon it ,ashes
Sole man beneath in shock.
But looking at the ocean,
He sees what he has learned
Joy of air and every hue
Love he gave returned.
White dove has flown
Sage owl looks on;
Knowledge all its own.
The light that once shone,
Now has gone;
Dark nights, too dull to moan.
So watch with me the stars above;
Some shooting, sonic sky.
Know that each with passing love
Remains in place on high.
KING FOR THE DAY

To be the king for just one day
To cast the pot and smooth the clay
And paint each colour rainbow spot
Describe each word of Camelot
And conjure with the hand and mind
Creating mirth , so hard to find
In this dark world , of mice and men
Created equal but now then
To reach beyond the stars so bright
To others needy , wretched plight
Save the body and the soul
Your brother , sister , family whole .
Create a world where all can write
Sing dance and play without death' s fight
But play their tune upon the score
The Angels descant aye for awe .
PEACE

Flower, petals brightly shine
Does not yet know the words, its speech
The voice of beauty, to define,
Heart sadly broken, out of reach.
"My play", says Lilly, blooming rose
"Is to refine our sense of time
When perfume danced upon our nose
Heart and soul in perfect rhyme."
Reach, oh reach my fading flower
Strings so vibrant, once so strong
Stretch to touch, embrace, empower
To turn gay light on those so wrong
So nurture gone, capillary.
Flaccid, essence of the love
Not yet with eyes that dare not see
Petals soft uplifted dove.
STOP

If I could stop the world
From turning it's merry go round,
I'd say, "come for a ride!"
Wait and see
Side with me
Be my guide
Thrill and find
Show and tell
Kiss and know.
CHILD

This is the land of happiness
A vessel for our joy
Where love, hope, touch of sweet caress
Abundant for each boy
And girl, whose language, same we speak;
No double meaning, clouded coy
Resounding laughs, most mirthful squeak
Simple innocent child with toy.
I found it on the internet;
Most certain that it's true
The answer to the blues, we'll get
Most horrid-some of hue.
They say it's all internal
Thoughts schlepping in the past
Be in the present moment "pal"
Just laugh & it won't last!
But have you ever wondered?
From in the dank cold cell
How many great minds pondered
Upon these ruminants of hell
Cud churning thoughts of Mr Jung
With Sigmund and his hang ups
It's all about our seed out flung?
Our copy catting new pups?
Warriors of the modern age
Defend yourself from hate
Deflect the spears of spiteful rage
Into the depths of heated grate.
Remember who the child is
Who only knows real joy
Loves you as you are.This
Is the saviour called "My Boy"
SPLINTERS

I saw my offspring crumble
Before my very eyes
So painful and so humble
I, dispensed with all the lies
There was no easy story
Just stolid truth unveiled
To watch hot tears, no glory
A love, now gone, reviled.
The shattering of safe home glass
Sharp stabbing shards of pain
The platitude of 'it will pass'
A mockery with shame
There is no bandage, big enough
To comfort and console
When the going gets to
just as tough
It leaves a searing hole.
The whole it has divided
To make for healthy tree
Finally decided
Home broken, torn, why free?
PRAYER

Sleep soundly
In the knowledge you are loved
By all of us who went before
And watch you from above
We know it feels
As if you are alone
But there is deep inside you
Strength like precious stone
Talk to me, just whisper
I hear your core, essence
Singing out to prosper
Man's purpose to enhance
Lift the darkness my soul
See the light of living
Spread joy's goal
Peace love of giving
SENSE

In listening you see him
It's in looking that you hear
Seeing when you speak his name
His scent through crystal clear
So eyes out for the ticking
Recall the sight of sound
The taste of his mind picking
Hard rock, stoney ground
Remember what he feels now
Recall the days ahead
Anticipate the old vow
As you leap back time unsaid
Storm in peace you find us
Heaven from our hell
Comfort in life's madness
Dis-ease to a well
Of human kindness flowing
cruel water, misery
Heart beat yet unknowing
I hear, but now I see.
QUESTION

What is the point
When you believed
That all was said
In truth?
And now you find
That words of love
Were nothing.
Bereft recluse
Turn away head
Protect your heart
Be wary instead
Make a fresh start
Feel every second
Enjoy every star
Fun it is reckoned
Keeps blues afar
Where do I place
These feelings of mine?
Amour so disgraced
Anger, not fine.
You look in the middle
Search for the plot
Life's puzzling riddle
Stopping the rot.
Why carry on now
Day after day?
Try to discover
How to make hay?
Cut or remember,
Forget or take pride?
Past love, I send her
My dreams now reside.
LOVE

Where is The Woman?
Where is She now?
Who promised to love,
And show him how
To live together
"It all will turn well!".
Promised him heaven
But ended in hell.
She sits at the roadside;
Regressed little girl.
Longing to confide
But lost in the swirl.
The absence of Father
Barbed loss of the child
Rejection of All Men!
Their species Reviled
But she's just a person,
Simple as me.
Looks for diversion
But longs to be free
Of shackles so world tied
The bondage of life
Escape from reality
Trouble and strife
Sent her an olive tree
But she did not see
The dove passing last chance
Some essence of He
Lost in the mind maze
Rattled closed cage
Blind by the red haze
Emptied by rage
So if you should find her
Help her to move
From the roadside of dark fear
Her life to improve.
The sins of The Man
Are the duty of All
Save Her, when you can
Soft land her fall
THE THINGY

I'm looking for my thingy
It seems I never find
The search it does unhinge me
It's at the corners of my mind
The thingy is elusive
I don't even know it's name
It's shy and quite reclusive
And it plays the seek me game
So if you see my thingy sure
Along your travels long
Please tell it that I'm looking for
That what's it, thingy evermore